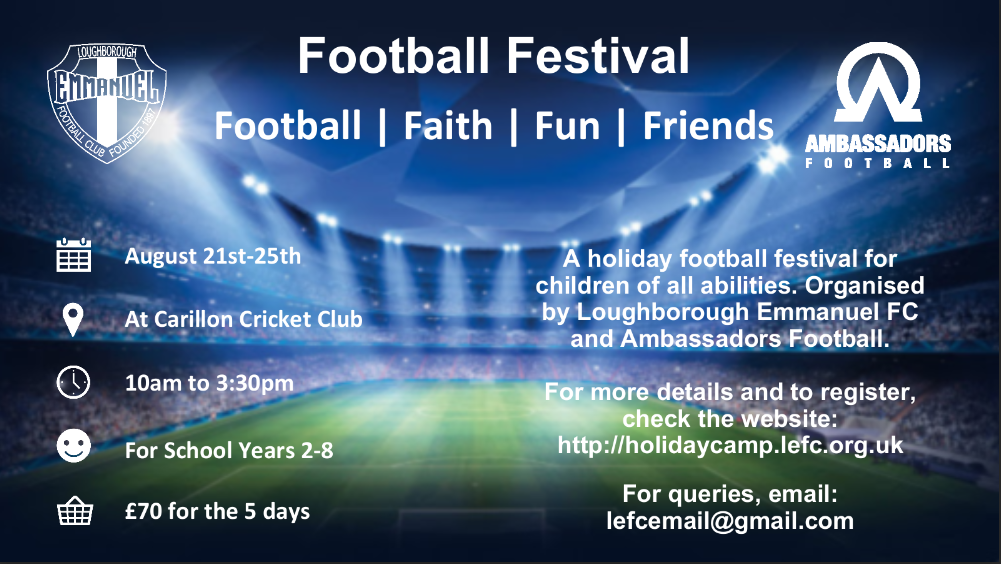 A holiday football festival for children of all abilities
Only £70 for the 5 days, Monday 21st to Friday 25th August
Year 2 to Year 8. The school years are based from the current school year.
Held at the Carillon Cricket Club, Moor Lane, LE11 1ST.
A Positive Football Experience
Ambassadors Football Holiday clubs are designed to give young developing football players an opportunity to develop basic and advanced football skills in a fun and encouraging environment.
The fundamentals of football are taught with an emphasis on sportsmanship and character based on principles from the Bible.
As a registered charity, Ambassadors Football partners with local churches to run Holiday Clubs in communities throughout the UK.
What will Happen?
Split into age-related divisions, each child will be placed into a team and have their own coach for the duration of the Holiday Club (maximum of 1 coach to every 10 children).
The majority of the time is spent acquiring and developing new skills (passing, shooting, playing in small sided games), we then have a short break to discuss the Christian faith in our teams.
Later in the week, you will have the opportunity to put your new skills into practice in the Ambassadors Cup.
What will you need?
Players should bring with them the following:
Boots suitable for grass pitches and most importantly, SHIN PADS.
Tracksuit or other warm clothing
A water bottle (ideally with their name on it)
Goalkeepers should bring their own goalkeeper equipment
Hand sanitiser/gel
What will you receive?
5 days coaching from FA qualified coaches
A certificate of completion
A Holiday Club t-shirt
An opportunity to win individual and team medals and trophies
Prices
Only £70 per child for 5 days.
Book early to avoid disappointment!
We may open up the option to book 3 or 4 days if spaces are available (3 days = £55, 4 days = £63)
What next?
To secure a place at the Summer Camp, please select the following link and complete one registration form per child.
We will then contact you to arrange payment. Once payment has been received, we will send you confirmation of your place along with other important information regarding the event.
A Holiday Football Festival organised by Loughborough Emmanuel FC and Ambassadors Football